Thursday Night Adult Flag Football
League Coordinator - Jeramy Bollinger
New Season starts In January
Join our NON-CONTACT Flag Football league 6 on 6 with a strong emphasis on high scoring offence, definitely not your average Flag league. Come join the fun with the 70+ other teams, you won't be disappointed!
Our leagues run all year round with our Tuesday night league in Tempe, Wednesday night in N.Phx, and Thursday night league in Mesa.
SIGNING UP AS A SINGLE? HOW DOES IT WORK AND WHAT IS FREE AGENT NIGHT?
Free agent night we bring everyone who signed up as a single player and play pickup games on Free Agent night and from there we combine all players into fair free agent teams that you will play on for the season. It is a great way to meet people and get out there! If you can't make it you will still be placed on a team not to worry.
Leagues run all year round and our Thursday night league is east valley based with games generally played in Mesa area.
Need more info, here you go:
What?  Non Contact 6 on 6 flag football.  Triple threats flag provided. 8 games guaranteed with potential of additional playoff games.
Where? East Valley – Typically Tempe/Mesa/Gilbert Borders
When?  Thursday Nights between 6:30-10 pm.
Who?  Adults 18+ all skill levels. Open to Male and Female.
Info? Games run 40+ mins.  We use licensed flag referees.  Trophy for winning team.
How?  Look right and select payment to sign up. You must be fully paid a week in advance to play in the league.
Take a moment to join AZ Sports League Flag Football Community on Facebook to find teams and join the discussion in our football group.
Current Champions D1 // Summer 2021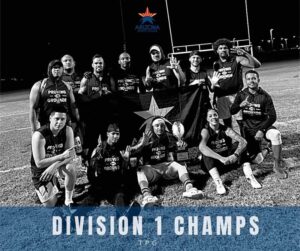 Current Champions D2 // Summer 2021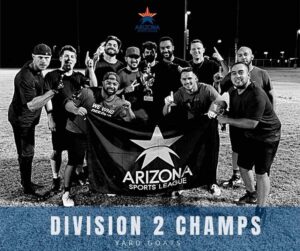 Standings
| Teams | Jersey Color | Wins | Loses | Ties | Points for | Points Against |
| --- | --- | --- | --- | --- | --- | --- |
| DIVISION 1 | | | | | | |
| Honey Badgers | Gray | 7 | 0 | 0 | 158 | 96 |
| TPG | Blue | 5 | 2 | 0 | 246 | 163 |
| Got This Rey | light gray neon green and black | 5 | 2 | 0 | 213 | 162 |
| The Process | Red | 5 | 2 | 0 | 206 | 182 |
| Minorities | Black | 2 | 5 | 0 | 140 | 192 |
| Desert Outlaws | Black/Red and White | 1 | 6 | 0 | 161 | 212 |
| Tuff Crowd | White | 0 | 7 | 0 | 148 | 241 |
| DIVISION 2 Group A | | | | | | |
| Degenerates | White/Black | 7 | 0 | 0 | 254 | 121 |
| Pushin Points | Red | 7 | 0 | 0 | 168 | 73 |
| Estalit | Black | 5 | 2 | 0 | 209 | 194 |
| Yard Goats | Dark Green | 4 | 3 | 0 | 176 | 198 |
| KOK | gray | 3 | 4 | 0 | 151 | 180 |
| Alcoholics Anonymous | White/Red | 3 | 4 | 0 | 168 | 193 |
| Flatliners | black | 2 | 5 | 0 | 179 | 156 |
| Ranger Of Motion | Dark Purple | 2 | 5 | 0 | 146 | 200 |
| Super Gremlins | | 1 | 6 | 0 | 119 | 184 |
| AZ Chargers | | 1 | 6 | 0 | 119 | 198 |
Schedule
Date
Times
Matchups
Scores
Location
Week 1
Apr. 21 2022
Pecos Park Field 1
17010 S 48th St, Phoenix, AZ 85048
6:00pm
6:45pm
Tuff Crowd vs Minorities
27-33
7:30pm
HoneyBadgers vs TPG
13-12
8:15pm
Got This REY vs The Process
32-26
9:00pm
4FP vs Desert Outlaws
29-26
6:00pm
Flatliners vs KOK
40-20
6:45pm
Alcoholics Anonymous vs Rangers of Motion
NO GAME
7:30pm
Yard Goats vs Degenerates
14-40
8:15pm
Pushin Points vs Estalit
20-14
9:00pm
Super Gremlins vs Estalit
33-35
Week 2
Apr. 28th 2022
6:00pm
6:45pm
The Process vs Desert Outlaws
38-37
7:30pm
Got this Rey vs 4FP
40-35
8:15pm
TPG vs Minorities
49-26
9:00pm
Honey Badgers vs Tuff Crowd
22-20
6:00pm
Yard Goats vs Pushin Points
12-30
6:45pm
AZ Chargers vs Range Of Motion
30-12
7:30pm
Degenerates vs Flatliners
20-13
8:15pm
KOK vs Estalit
22-37
9:00pm
Alcoholics Anonymous vs Super Gremlins
38-32
Week 3
May 5th 2022
6:00pm
Alcoholics Anonymous vs Rangers of Motion
30-24
6:45pm
Got This Rey vs Minorities
36-18
7:30pm
Honey Badgers vs Desert Outlaws
25-8
8:15pm
4FP vs Tuff Crowd
50-27
9:00pm
TPG vs The Process
29-34
6:00pm
Pushin Points vs Super Gremlins
20-14
6:45pm
KOK vs Range of Motion
18-36
7:30pm
Alcoholics Anonymous vs Degenerates
22-30
8:15pm
AZ Charges vs Flatliners
6-34
9:00pm
Yard Goats vs Estalit
31-34
Week 4
May 12th 2022
6:00pm
6:45pm
Tuff Crowd vs The Process
27-28
7:30pm
4FP vs TPG
34-54
8:15pm
Honey Badgers vs Got this Rey
16-14
9:00pm
Desert Outlaws vs Minorities
28-38
6:00pm
Alcoholics Anonymous vs Yard Goats
20-27
6:45pm
Pushin Points vs Range of Motion
28-6
7:30pm
KOK vs Flatliners
25-19
8:15pm
AZ Chargers vs Super Gremlins
19-27
9:00pm
AZ Chargers vs Degenerates
12-42
Week 5
May 19th 2022

6:00pm
6:45pm
4FP vs Honey Badgers
14-26
7:30pm
Minorities vs The Process
25-28
8:15pm
Tuff Crowd vs Desert Outlaws
20-29
9:00pm
Got this Rey vs TPG
25-28
6:00pm
AZ Chargers vs Pushin points
6-20
6:45pm
Degenerates vs Range of Motion
42-28
7:30pm
Yard Goats vs Super gremlins
28-27
8:15pm
Estalit vs Flatliners
29-28
9:00pm
Alcoholics Anonymous vs KOK
22-30
Week 6
May 26th 2022
6:00pm
6:45pm
TPG vs Tuff Crowd
43-18
7:30pm
Desert Outlaws vs Got this Rey
20-29
8:15pm
The Process vs Honey Badgers
28-32
9:00pm
6:00pm
Flatliners vs Yard Goats
27-34
6:45pm
Alcoholics Anonymous vs AZ Chargers
36-26
7:30pm
Super Gremlins vs Degenerates
6-38
8:15pm
KOK vs Pushin Points
21-26
9:00pm
Range of Motion vs Estalit
18-34
Week 7
June 2nd 2022
Tempe Sports Complex Field 5
8401 s Hardy tempe AZ
6:00pm
6:45pm
The Process vs 4FP
24-0
7:30pm
Minorities vs Honey Badgers
0-24
8:15pm
Desert Outlaws vs TPG
13-34
9:00pm
Tuff Crowd vs Got this Rey
19-36
6:00pm
KOK vs Super Gremlins
24-0
6:45pm
Pushin Points vs AA
24-0
7:30pm
Range of Motion vs Flatliners
22-18
8:15pm
Degenerates vs Estalit
42-26
9:00pm
Yard Goats vs AZ Chargers
27-20
Week 8 D1 playoffs
6.30.22
Tempe Sports Complex Field 5
8401 s Hardy tempe AZ
6:00pm
6:00pm
6:45pm
TPG vs Tuff Crowd
6:45pm
Honey Badgers get BYE
7:30pm
The Process vs Minorities
7:30pm
Got this Rey vs Desert Outlawws
8:15pm
Honey Badgers vs TBD
8:15pm
Semifianls TBD vs TBD
9:00pm
Championship
7.7.2022
D2 Playoffs and Championship
Tempe Sports Complex Field 5
8401 s Hardy tempe AZ
6:00pm
6:00pm
6:45pm
6:45pm
7:30pm
7:30pm
8:15pm semi finals
8:15pm semi Finals
9:00pm Championship
4.14 - NEW SEASON
NEW SEASON IN TEMPE