Tuesday Night Adult Flag Football
League Coordinator - Chris Lathan
Join our NON-CONTACT Flag Football league 6 on 6 with a strong emphasis on high scoring offence, definitely not your average Flag league.
We offer Division 1 (higher level) & D2 (Rec) for all levels! Come join the fun with the 70+ other teams, you won't be disappointed!
Our leagues run all year round with our Tuesday night league in Tempe, Wednesday night in N.Phx, and Thursday night league in Mesa.
SIGNING UP AS A SINGLE? HOW DOES IT WORK AND WHAT IS FREE AGENT NIGHT?
Free agent night we bring everyone who signed up as a single player and play pickup games on Free Agent night and from there we combine all players into fair free agent teams that you will play on for the season. It is a great way to meet people and get out there! If you can't make it you will still be placed on a team not to worry.
More Info:
What?  6 on 6 flag football.  Triple threats flag provided.  8 games guaranteed with potential of additional playoff games.
Where? Tempe
When? Tuesday Nights between 6:30-10 pm
Who? 
Division 1 & Division 2 levels. Division 1 is for higher level competitive teams & players where D2 is for Rec players who just want to get out there and have some fun.
Adults 18+ all skill levels. 
Info? Games run roughly 45 mins.  We use licensed flag referees.  Trophy for winning teams including a special MVP award. Cross town Champs in the works, Tues vs Thurs, who will be the King of AZSL Flag?
How? Look right and select payment to sign up. You must be fully paid a week in advance to play in the league.
Take a moment to join AZ Sports League Flag Football Community on Facebook to find teams and join the discussion in our football group.
Current Champions // Summer 2021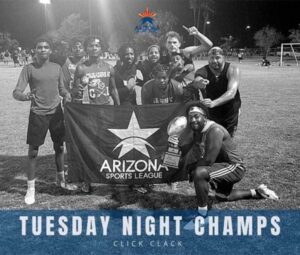 Standings
| Teams | Team Color | Win | Loss | Tie | Points For | Points Against |
| --- | --- | --- | --- | --- | --- | --- |
| Division 1 | | | | | | |
| Immortals | | | | | | |
| Gimmie the Loot | | | | | | |
| Free Smoke | | | | | | |
| New Dynasty | | | | | | |
| Mean Machine | | | | | | |
| Mambas | | | | | | |
| Avengers | | | | | | |
| Division 2 | | | | | | |
| SFG | | | | | | |
| Ankle Breakers | | | | | | |
| Downfield Demons | | | | | | |
| BC Lions | | | | | | |
| S2B Dilf's | | | | | | |
| | | | | | | |
Schedule
Date
Time
Matchups
Scores
Locations
Week 1 - June 21st 2022
Benedict Park Field 2
490 w Guadalupe rd
6:00pm
6:45pm
Gimmie the Loot vs Mean Machine
7:30pm
Immortals vs Gimmie the Loot
8:15pm
Free Smoke vs New Dynasty
9:00pm
Mambas vs Avengers
6:00pm
BC Lions Show up at 6
6:45pm
BC Lions vs S2B Dilfs
7:30pm
SFG vs TBD
8:15pm
Ankle Breakers vs Downfield Demons
9:00pm
Week 2- Mar 29th 2022

6:00pm
6:45pm
7:30pm
8:15pm
9:00pm
6:00pm
6:45pm
7:30pm
8:15pm
9:00pm
Week 3 Apr 5th 2022
6:00pm
6:45pm
7:30pm
8:15pm
9:00pm
6:00pm
6:45pm
7:30pm
8:15pm
9:00pm
NO GAMES 4-12-22
NO GAMES 4-12-22
Week 4 Apr 19th 2022
6:00pm
6:45pm
7:30pm
8:15pm
9:00pm
6:00pm
6:45pm
7:30pm
8:15pm
9:00pm
Week 5 Apr 26th 2022
6:00pm
6:45pm
7:30pm
8:15pm
9:00pm
6:00pm
6:45pm
7:30pm
8:15pm
9:00pm
Week 6 May 3rd 2022
FIELD CHANGE
BENEDICT SPORTS COMPLEX
6:00pm
6:45pm
7:30pm
8:15pm
9:00pm
6:00pm
6:45pm
7:30pm
8:15pm
9:00pm
Week 7 - May 10th 2022
BENEDICT SPORTS COMPLEX
6:00pm
6:45pm
7:30pm
8:15pm
9:00pm
6:00pm
6:45pm
7:30pm
8:15pm
9:00pm
May 17th
NO GAMES
May 24th - Week 8 D2 play in games an D1 Playoffs and championship
6:00pm
6:00pm
6:45pm
6:45pm
7:30pm
7:30pm
8:15pm
8:15pm
9:00pm
May 31st - D2 playoffs and championship
6:00pm
6:00pm
6:45pm
6:45pm
7:30pm
7:30pm
8:15pm
8:15pm
9:00pm
ONE WEEK BREAK
June 7th OFF
New Season Starts
June 14th
Potential BYE WEEKS
July 12th & 19th
Fall season starts
Sept. 6th