Flag Football West Valley Wednesday League
League Coordinator - Chris Lathan
Join our NON-CONTACT Flag Football league 6 on 6 with a strong emphasis on high scoring offence, definitely not your average Flag league. Come join the fun with the 70+ other teams, you won't be disappointed!
Our leagues run all year round with our Tuesday night league in Tempe, Wednesday night in the West Valley, and Thursday night league in the East Valley.
SIGNING UP AS A SINGLE FREE AGENT? HOW DOES IT WORK AND WHAT IS FREE AGENT NIGHT?
Free agent night we bring everyone who signed up as a single player and play pickup games on Free Agent night and from there we combine all players into fair free agent teams that you will play on for the season. It is a great way to meet people and get out there! If you can't make it you will still be placed on a team not to worry.
Need more info, here you go:
What?  6 on 6 Non contact flag football.  Triple threats flag provided.  8 games minimum.
Where? West wind Elementary – 9040 W Campbell Ave, Phoenix, AZ 85037
When? Seasons start every 10 weeks. See Schedule below for upcoming seasons.
Wednesday Nights between 6-10 pm 
Who?  Adults 18+ all skill levels. 
Info? 40 Min Games.  We use licensed flag referees.  Trophy for winning teams including an MVP award. Cross town Champs Tourneys – Weds, Tues & Thurs, who will be the King of AZSL Flag?
How?  Look right and select payment to sign up. You must be fully paid a week in advance to play in the league.
Take a moment to join AZ Sports League Flag Football Community on Facebook to find teams and join the discussion in our football group.
Current Champions // Summer 2020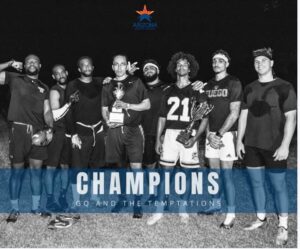 Standings
| Team Name | Jersey Color | Won | Lost | Tied | Points For | Points Against |
| --- | --- | --- | --- | --- | --- | --- |
| FPU | | 6 | 1 | 0 | 195 | 109 |
| Cash | | 6 | 1 | 0 | 171 | 61 |
| Spartans | | 5 | 2 | 0 | 214 | 71 |
| Power Rangers | | 4 | 3 | 0 | 170 | 98 |
| BombSquad | | 3 | 4 | 0 | 97 | 112 |
| PHX Wolfpack | | 3 | 4 | 0 | 95 | 139 |
| The TMG | | 1 | 6 | 0 | 50 | 244 |
| Flash | | 0 | 7 | 0 | 51 | 221 |
Schedule
Date
Time
Matchup
Score
Location
6.15.22
West wind Elementary - 9040 W Campbell Ave, Phoenix, AZ 85037
Week 1 - 6.15.22
6:30pm
Spartans vs The TMG
80-0
7:20pm
BombSquas vs PHX Wolfpack
0-24
8:10pm
Power Rangers vs FPU
19-21
9:00pm
Cash Vs Flash
32-0
Week 2 -
West wind Elementary - 9040 W Campbell Ave, Phoenix, AZ 85037
6:30
FPU vs Flash
50-24
7:20
Power Rangers vs Cash
21-24
8:10
The TMG vs PHX wolfpack
12-19
9:00
Spartens vs BombSquad
28-6
Week 3 -
West wind Elementary - 9040 W Campbell Ave, Phoenix, AZ 85037
6:30
Power Rangers vs PHX Wolfpack
26-19
7:20
Spartens vs Flash
40-0
8:10
Cash vs BombSquad
26-6
9:00
The TMG vs FPU
18-36
Week 4 -
West wind Elementary - 9040 W Campbell Ave, Phoenix, AZ 85037
6:30
BombSquad vs FPU
21-26
7:20
Cash vs The TMG
43-0
8:10
Spartens vs Power Rangers
14-32
9:00
Flash vs PHX Wolfpack
21-29
Week 5 -
West wind Elementary - 9040 W Campbell Ave, Phoenix, AZ 85037
6:30
Cash vs Spartens
27-14
7:20
PHX Wolfpack vs FPU
8-42
8:10
Bomb Squad vs Flash
28-0
9:00
Power Rangers vs The TMG
30-14
Week 6 -
West wind Elementary - 9040 W Campbell Ave, Phoenix, AZ 85037
6:30
The TMG vs BombSquad
6-36
7:20
Flash vs Power Rangers
6-42
8:10
PHX Wolfpack vs Spartens
6-38
9:00
FPU vs Cash
20-19
Week 7 -
West wind Elementary - 9040 W Campbell Ave, Phoenix, AZ 85037
6:30
PHX wolpack vs Cash
0-32
7:20
FPU vs Spartens
27-28
8:10
Flash vs The TMG
27-32
9:00
Bomb Squad vs Power Rangers
30-28
Week 8 PLAYOFFS - 5.4
West wind Elementary - 9040 W Campbell Ave, Phoenix, AZ 85037
6:30
Spartans vs PHX Wolfpack
40-6
7:20
FPU vs Flash
42-6
8:10
Cash vs TMG
50-7
9:00
Power Rangers vs Bombsquad
31-24
Week 9 - 5.11
SEMIS & FINALS & FREE AGENT NIGHT
West wind Elementary - 9040 W Campbell Ave, Phoenix, AZ 85037
6:30
Spartans vs Cash
7:20
FPU vs Power Rangers
8:10
TBD Championship
NEW SEASON STARTS
May 25th